Nonmetallic Pack Hydraulic Press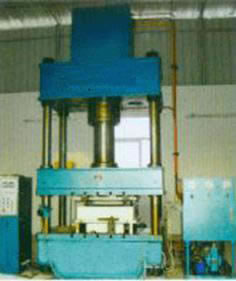 The nonmetallic pack hydraulic press is used for cotton and kapok, gauze, fabric, fiber, wool and different types of leather products. It has singular package block dimensions to wrap in a unified way with high density fitting container or warehouse specifications. The nonmetallic pack hydraulic press uses sets of special type cylinders and it doesn't need underground foundation. The cylinder seal is reliable and doesn't slip.
Technical Specifications of the Nonmetallic Pack Hydraulic Press
Project
Unit
Y82-63A
Y82-315
Nominal force
kN
630
3150
Max. pressure of liquid
MPa
16.5
25
Return trip strength
kN
200
600
Slide maximum traveling range
mm
1100
900
The slide is apart from the work floor max range
mm
1600
1150
Slide running rate
Under idling line
mm/s
22
100
Under idling speed line
mm/s
10
16
Return trip
mm/s
48
40
Work table active surface
F-B
mm
707
1160
L-R
mm
1500
1260
Column center distance size
F-B
mm
800
900
L-R
mm
1250
1400
The work table is high apart from the ground
mm
400
650
Main engine overall size
L-R
mm
1500
1660
F-B
mm
980
1160
Above ground
mm
3950
3948
Total power
kW
11
33
Oil Drilling Equipment
4 Column Hydraulic Press
This hydraulic press is suitable for pressing process of plastic material, like stamping, bending, flanging, stretching and so on. It can also be used for adjusting, press mounting, as well as forming of plastic products and powder products.

Single Action Hydraulic Press
Our single action hydraulic press is designed with a computer optimized structure. It has the features of being simple, economical and practical, and is widely used in the petroleum, railway, and other industries.