Steel Rope Shaft Sinking Winch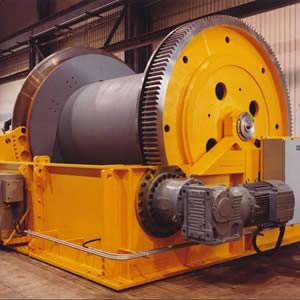 Technical Parameters
Model
JZ-10/800
JZ-16/1000
JZ-16/1600
JZ-25/1320
JZ-25/1600
JZ-40/1800
Max. Static Tension of the Steel Rope (kN)
100
160
160
250
250
400
Rope Length (m)
800
1000
1600
1320
1600
1800
Fast Speed of the First Layer (m/s)
0.075
0.075
0.075
0.075
0.075
0.075
Slow Speed of the First Layer (m/s)
0.038
0.038
0.038
0.038
0.038
0.038
Number of layer
7
8
10
10
10
11
Steel Rope Diameter (mm)
32
40
40
52
52
60
Drum Diameter (mm)
800
1000
1050
1050
1250
1000
Drum Width (mm)
1250
1415
1500
1768
1758
1520
Center Height of Drum (mm)
800
1050
1300
1300
1595
1050
Reduction Ratio (fast speed)
65.63
75.86
75.86
77.49
75.86
75.86
Reduction Ratio (slow speed)
126.19
152.78
152.78
157.14
152.78
152.78
Total Reduction Ratio (fast speed)
401.04
499.09
531.03
577.7
499.09
499.09
Total Reduction Ratio (slow speed)
771.64
1005.12
1069.44
1164.7
1005.12
1005.12
Motor Type
Y225M-8
YZR250M2-8
YZR280S-8
YZR280S-8
YZR315M-10
YZR250M2-8
Motor Power (kW)
22
37
45
45
75
37
Motor Rotate speed (r/m)
740
720
717
717
579
720
Motor Voltage (V)
380
380
380
380
380
380
Dimension (mm) (L×W×H)
3283×2570×
1770
3650×3200×
2240
3827×3623×
2500
4062×3623×
2500
4625×4242×
3166
3920×3200×
2240
Total Weight (kg) (excluding steel rope and electric control box)
7000
12680
14400
16035
17100
27000
Oil Drilling Equipment
JZM Series Shaft-Sinking Winch
The JZM series shaft-sinking winch is a well received product offered by our company. It can be used for hanging scaffold, water pump, water pipe, cement pipe, air duct at coal mine, metal mine, non-metallic mine, among others.

Two Speed Shaft Sinking Winch
The two speed shaft sinking winch can operate with fast speed. It is the upgrade of the product of JZ10/600 series. The starting of the machine can be conducted frequently.