JD Series Mine Winch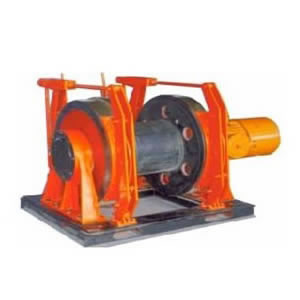 This JD series mine winch is driven by the planetary gear. Besides the high work efficiency, the machine can be started smoothly. The flexible operation, reliable braking system and the low noise make the JD series mine winch quite popular with our customers. Being a flame-proof product, this product is applicable for on-land hauling, tramcar scheduling, and other material transportation.
The JH series mine winch is manufactured with spherical worm drive in compact structure and small size. The structure of the product is symmetrical arranged in the shape of rectangle. With the smooth and solid base, this product is suitable for the underground applications. Since the center of gravity is lower, it is applicable to install the anchor for this product to obtain the smooth, safe and reliable operation.
Specifications
Model
JD-1(JD-11.4)
JD-1.6(JD- 25)
JD-2.5(JD-40)
JD- 3(JD-45)
Rated Line Pull (kN)
10
16
25
30
Line Speed (m/s)
0.43-1.03
0.6-1.2
1.115-1.632
1.115-1.632
Rope Specifications
(Dia.×L)
Φ12mm×400m
Φ16mm×400m
Φ20mm×650m
Φ20mm×650m
Motor Power (kW)
11.4
25
40
45
Overall Dimensions (mm)
1100×765×730
1350×1140×1190
1900×2350×1370
1900×2350×1370
Weight (kg)
550
1460
2800
2800
Oil Drilling Equipment
JZ Series Mine Winch
The JZ series sinking winch features powerful hoisting capacity, stable operation and long rope. This product is mainly used for hanging water pump, wind-cone, pneumatic cylinder, and grouting pipe for excavation works in the metal ores, non-metal mine.

JTP Series Mine Winch
Powerful and reliable, the JTP series mine winch is widely applied in the vertical shaft and the inclined shaft to hoisting coal, ore, waste rock and the person and other kinds of materials as well. Meanwhile, this product can also be used at the places such as the port and wharf.