JZ Series Mine Winch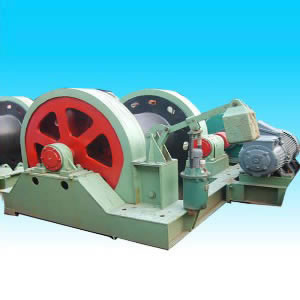 The JZ series sinking winch features powerful hoisting capacity, stable operation and long rope. This product is mainly used for hanging water pump, wind-cone, pneumatic cylinder, and grouting pipe for excavation works in the metal ores, non-metal mine. Additionally, the applications for lifting heavy object underground and on land are also available for this product. We may offer the customized product to our customers of you can kindly inform us the following information.
1. The place of application, for mining or other industry?
2. Intending use, for lifting workers or material?
3. Required loading capacity.
4. Pattern of mine, vertical or inclined? The depth of the vertical shaft and the angle of the inclined shaft.
5. Diameter and width of the drum.
6. Diameter of the rope.
7. Lifting speed needed (m/s)
8. Motor power and voltage.
9. Requirement on the electricity system.
Technical Parameters
Model
JZ-5/
400
JZA-5/
600
JZ-10/800/
1000
JZ-16/
800
JZ-16/1000/
1300
JZ-25/1300/
1500
Max. Rope Static Tension
5000kg
5000kg
10000kg
16000kg
16000kg
25000kg
Rope Length
400m
600m
800/1000m
800m
800/1300m
1300/1500m
Average Rope Speed
High Speed
6m/min
6m/min
6m/min
6m/min
6m/min
6m/min
Low Speed
3m/min
3m/min
3m/min
3m/min
3m/min
3m/min
Number of Layers
6
10
7
6
7
9
Rope Diameter
23mm
23mm
31mm
40mm
40mm
52mm
Drum
Diameter
400mm
400mm
800mm
1000mm
1000mm
1050mm
Width
900mm
1000mm
1050mm
1400mm
1400mm
1560mm
Center Height
650mm
580mm
800mm
1050mm
1050mm
1250mm
Speed Ratio
Reducer
High Speed
50
50
63.5
77
77
77
Low Speed
100
100
127
154
154
154
Overall
Gear
ratio
High Speed
252.5
252.5
388
506.6
506.6
506.6
Low Speed
505
505
776
1013.2
1013.2
1013.2
Motor
Model
Y160L-6
Y160L-6
Y200L2-6
YR250M1-8
YR250M1-8
YZR280M-8
Power
11kW
11kW
22kW
30kW
30kW
55kW
Rotate Speed
970r/min
950r/min
970r/min
720r/min
720r/min
728r/min
Voltage
380V
380V
380V
380V
380V
380V
Oil Drilling Equipment
JK Series Mine Winch
The JK series mine winch is provided with compact structure and light weight. With the powerful hauling capacity, this product is widely used by mining, metallurgy, construction site, mechanical industry, bridge construction, hydropower station, etc.

JTP Series Mine Winch
Powerful and reliable, the JTP series mine winch is widely applied in the vertical shaft and the inclined shaft to hoisting coal, ore, waste rock and the person and other kinds of materials as well. Meanwhile, this product can also be used at the places such as the port and wharf.